Page 1 of 3 • 1, 2, 3


Staring with Dark Journalists Exposé, first 2 parts...then there is more from discussions with Bill Ryan, Insights from Modwiz & the Ruiner...lots of content & much to mull over !
NEW AGE DEEP STATE: SECRET SPACE HARVEST - DARK JOURNALIST
https://www.youtube.com/watch?v=GzCHN2m6UoE
Published on May 25, 2017
Visit http://www.DarkJournalist.com
Dark Journalist Introduces Six Part Video Series: The New Age Deep State - Documenting Decades of Disinformation & Subterfuge Efforts Against Independent Thought
In this exciting part 1 of 6 episodes of an in-depth series on the New Age Deep State, Dark Journalist focuses on covert forces working to dilute and control the narrative around The Black Budget project known as The Secret Space Program. The research done on this important topic by reliable investigators trying to find a key to the missing trillions involved has been effectively co-opted and mixed with disinformation stories by a multi-pronged marketing plan that is just ramping up.
The SSP Whistleblower Spectacle
In the last few episodes of Dark Journalist, we have brought forward the revelations of Project Avalon's Bill Ryan who questioned the veracity of Gaia TV Whistleblower Corey Goode who claims to be a time traveling astronaut. Ryan showed many holes in Goode's story and suggested his narrative was created mostly for entertainment purposes.
The unfortunate impact of Goode's case is that genuine inquiries into the real Secret Space Program are being associated with his bizarre tale of being part of a phantom space alliance. Dark Journalist asks the question, is it by design and also presents shocking information of an extensive 3 year shadow marketing effort meant to cash in on this exploitative spin of UFO and SSP research for media interests in comic books, video games and TV shows.
History of Disinformation Efforts Against The New Age Movement
From it's inception in the early 20th century to the present, Dark Journalist tracks the growth of a vital movement that became a threat to intelligence agencies and corporate interests because of its decidedly spiritual focus. The foundation laid by pioneers like Rudolf Steiner and Helena Blavatsky provided large scale movements towards intentional communities, bio dynamic farming, yoga, psychic experience and the quest for spiritual consciousness.
Mind Control: Savior Programming
The New Age Movement has become targeted by exploitative marketing forces and Mind Control Intel Projects so that it's direction could be controlled and manipulated at will. Now it is being used as a tool to confuse the issue of the Secret Space Program as the covert operators in both shadow marketing and intel psyops plan to use Savior Programming to create a masquerade of Alien Messiahs coming to save the environment.
Fascinating, eye-opening, informative and startling you don't want to miss this powerful Part 1 of 6 Dark Journalist Episode!
DISCLOSURE AS OCCULT RITUAL! NEW AGE DEEP STATE PART 2 - DARK JOURNALIST


https://www.youtube.com/watch?v=dbJcHaDBITs

Published on 29 May 2017

Note: Due to the important nature of this video and it's many revelations, you may at your discretion download it and upload it to your channel with proper citation and share it with your viewers to make sure it is not censored.

MAJOR REVELATIONS!
New Age Deep State Part 2: The 'Team' & Luciferic Influences
In this exciting part 2 episode of this investigative series that looks at the covert influences attempting to infiltrate and coerce the New Age and UFO communities, Dark Journalist reveals some shocking details that have emerged relating to Corey Goode, and his marketing team's documented association with Satanism and Luciferic imagery. Goode, who claims to be a Time Traveling Astronaut in his show with David Wilcock on Gaia TV, is creating ever more elaborate stories to complement his marketing scenarios, but a major backlash is growing against the promotion of a story that appears from all angles to be a work of fiction.

This episode also delves into the major initiative called 'Corey's Kids' that attempts to enlist young adults do outreach to attract the teen market into cult-like activities by promoting Goode's comic books and video games about disclosure.

UFO Disclosure vs FDN "Disclosure"
He also looks at the larger role of the the 3 Year Disclosure Plan that Corey Goode recently announced at a conference. Goode's business partner Roger Ramsaur has kept largely in the shadows as he built up something called Full Disclosure Network (FDN) over the last year. Now we can see the oddity that this FDN movement doesn't even mention UFOs in their title or reference the topic much as you would expect from a disclosure oriented organization. The evidence suggests that the 'Disclosure' they are referring to is the Disclosure that Lucifer the Light Bringer will bring the world into his domain and that they are using the narrative of the Blue Avians to introduce a new Satanic Movement under the guise of Advanced Alien Races coming to help humanity.

There are more stunning details that will be revealed as we get closer to the truth of what is masquerading in the independent media as a 3 year movement for disclosure and co-opting legitimate UFO and Secret Space Program research areas and turning them into Occult recruiting initiatives and unscrupulous marketing techniques aimed at a millennial crowd.

Stunning, disturbing, informative and fascinating, you don't want to miss this incredible Dark Journalist episode!

Research Links on FDN:


https://www.youtube.com/channel/UC3rygTRcdxvBEvFY43sTRvw/featured

https://lowson.bandcamp.com/merch

https://www.facebook.com/photo.php?fbid=222603561476102&set=picfp.100011793793157.120692921667167&type=3&theater


https://offeringtothesun666.bandcamp.com/track/marrow
SECRET SPACE PROGRAM UPDATE! BILL RYAN EXPOSES COREY GOODE: THE FACTS! DARK JOURNALIST



https://www.youtube.com/watch?v=yYYl12VXdUw

Published on May 16, 2017
Visit http://www.DarkJournalist.com

A Special Dark Journalist Report: Covert Forces Interfere with Investigation Into Missing Trillions
This informative update between the second and third installment of the groundbreaking Dark Journalist Daniel Liszt interview with Project Avalon's Bill Ryan, explains the massive Marketing/Entertainment/Intelligence Psyop that is attempting to divert serious research into the Secret Space Program. Gone is the serious inquiry into the Missing Trillions that have been covertly funneled into space infrastructure with a major transformation into a Disneyesque, New Age, Benevolent Time Traveling ET fairytale.

Goode's Story Crumbles
Bill Ryan recently wrote a compelling article that called into question the story of Corey Goode, who claimed to be involved in a secret military program as a Time Traveling Astronaut. Goode also claimed benevolent Blue Avian aliens were using him to communicate with humanity.

Ryan had started his investigative career on Project Camelot and later founded Project Avalon and had interviewed many whistleblowers. When he spent time dealing with Corey Goode and his bizarre story, red flags were flashing everywhere. Goode had no evidence and his story was changing too much and becoming far more elaborate. Ryan had also received information that the entire spectacle may be part of a larger effort to discredit serious UFO and SSP investigation.

The Truth Stakes Are High
UFO research over the course of 75 years has always been a target of intelligence operations to discredit the notion of advanced technology and off-world civilizations. This new push to take serious, meticulous research on a Secret Space Program being developed without the public's knowledge and have the narrative be adapted as some false, discrediting narrative about Goode as an ET Messenger and member of a Space Alliance is too much for serious researchers to fathom. It appears that the topic of this Secret Program is being manipulated and contaminated by design. By the time this bizarre effort is over, most people may not even recognize the field of UFO and SSP investigation.





Corey's Kids ( A subsection of the apparent SSP CO-OP)

Made by PA member TargeT, good summing up of whats in the longer vids to be posted later, if you want to know what the "Corey's kids" thing is..



https://www.youtube.com/watch?v=dpVE2JO14DY


And then there is this interesting & very revealing bit of investigation from our old friend Modwiz...





https://www.youtube.com/watch?v=E-eqNLIlcUk






https://www.youtube.com/watch?v=qApt0XhbS0E


Published on May 7, 2017
Visit http://www.DarkJournalist.com
Project Avalon's Bill Ryan Speaks Out on Corey Goode
Dark Journalist Daniel Liszt welcomes Project Avalon's Bill Ryan to the show. Ryan first hit the spotlight a decade ago with his efforts at seeking out Secret Space Program whistleblowers and having them deliver riveting information live on video along with his research partner Kerry Cassidy on the early alternative series called Project Camelot. Eventually Ryan split with Cassidy and developed his own forum of research called Project Avalon which tackles deep subject matter with an informed community.

The Truth is Never Easy
In this special episode, Ryan will go on the record about the details of his viral article called 'The Truth About Corey Goode' that is gaining rapid attention and attempts to explain and in some sense unmask the bizarre story of Corey Goode. Ryan had his own interactions with Goode before he went public and believes that his story is unreliable.

Secret Space Circus 2017: The New Normal
Many fact based revelations came out in the last decade about the development of a Secret Space Program including UK Hacker Gary McKinnon discovering an "Off-world Officers List" while reading classified files at NASA, for which the US Government attempted to extradite and charge him with espionage. Other analysts came forward with remarkable disclosures about missing Government funds and the outline of a completely hidden agenda.

In tandem with this fascinating investigative reporting effort, a sideshow also developed with all kinds of discrediting themes, like fantasy beings and galactic ambassadors and space saviors to boot. A lot of this activity has centered around Corey Goode from Texas who claims to be a veteran insider of secret unacknowledged programs involving the military and space, but has offered zero evidence for this incredible assertion. In fact, Goode has no military record except a brief stint in the Texas State Guard, not exactly known as a hotbed of deep intelligence activity.

Ryan has attempted to have Goode take a Lie-Detector test to prove some of his wild assertions or to have him regressed to find out if his memories are real, implanted or fabricated. Goode has rejected the suggestion saying that hypnotic regression is 'invasive.' Without these evidentiary methods being employed to verify his memories and with no evidence being presented to support his story, Goode's account of being in a secret program appears to be falling apart.

Missing Trillions: The Original Secret Space Research Mandate
The original Secret Space Program Conferences organized by Global BEM, including one held in Austin Texas in 2015 and hosted by Dark Journalist Daniel Liszt, featured Former Assistant HUD Secretary Catherine Austin Fitts and Giza Death Star's Joseph Farrell, and brought forward verifiable evidence along with informed speculation from many experts and scientists and former Government officials. The event raised the spectre of a covert effort that was draining trillions of dollars from the US budget and siphoning them into a Complex Space Endeavor for private interests.

The Secret Space Program investigation took a turn for the bizarre after Gaia TV aired the Goode story even though he was completely unvetted by any journalistic standard and had absolutely no evidence to back up his assertions. It was pumped into the alt-research community by a series of TV episodes they developed for their select audience featuring Interviews with Goode by host David WIlcock.

Goode's Story
Goode claims to be an insider of various secret programs and a spokesman relaying spiritual messages from a group of alien beings. He has even developed a Comic Book Series of his ET communications with what he calls 'a Sphere Being Alliance.' Goode's story not only sounded like a Sci-Fi fantasy adventure, it also created a new version of a cult- like alien called a 'Blue Avian' with blue skin and feathers.

Goode's story largely incorporated elements of many Alternative Media themes like fighting the Illuminati, Cabal tribunals, Mandela effect, Breakaway Civilization and Babylonian Magic. Respected authors like Joseph Farrell and Richard Dolan were shocked to see their research shabbily recycled in a sensationalist and histrionic fashion.

With all of this in mind, the question becomes: are those driving this bizarre, unverified, unvetted story about Goode being some kind of an insider in a covert program part of an effort to deflect attention away from the genuine research process underway to find where the missing trillions went that were pumped into the Secret Space Program? Ryan wonders whether all of this hyperbole being presented with no corroborating evidence is a concerted activity meant to replace legitimate inquiry with Sci-Fi adventure tales mixed with faux New Age psychobabble.



https://www.youtube.com/watch?v=3pQe9Q_W1p0


Published on 2 Jun 2017

Disclosure Marketing Campaign Reveals Occult Influences
In this exciting part 3 episode, Dark Journalist reveals the occult influences on huge marketing program for 'Disclosure' being engineered by Gaia TV Whistleblower Corey Goode and his business partner Roger Ramsaur, who it was revealed in part 2 has a long history of Satanic imagery in his background. Ramsaur and Goode have tried to suppress this information with threats of official action.
-------
Note: Due to the important nature of this video and it's many revelations, you may at your discretion download it and upload it to your channel with proper citation and share it with your viewers to make sure it is not censored.
--------
Corey's Kids: The Secret Space Cadets
A major piece of the 3 year disclosure marketing plan devised by Corey Goode and Roger Ramsaur is the 'Corey's Kids' rollout. The plan which uses young Youtubers presented as Secret Space Program experts to help lure millennial and teen viewers into the Goode web of Blue Avian and Sphere Being Alliance merchandise like comic books, video games and SSP Gear stores. This trivialization of a major research topic in UFOlogy is something we've seen in these various initiatives. The hijacking of deep research into imporytant themes and turn it into memes shows the profit motive involved in these activities.

Shocking, informative, stunning and disturbing. Don't miss this important Dark Journalist episode.

Ria




Posts

: 1019


Points

: 2702


Join date

: 2016-02-27



So......further to the theme of this all being a means to trick people into black magic, check this out !
They are holding an event at the new age / pagan / orb appearance hot spot of Mount Shasta climaxing with a solar eclipse !
Early bird ?? Like early avian ?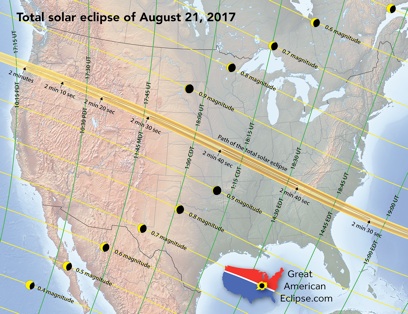 http://www.eclipse-maps.com/Eclipse-Maps/Gallery/Pages/Total_solar_eclipse_of_2017_August_21.html
Gotta  post this too......
Corey Goode wrote:Priestess Initiation Program: My good friend, Beth Leone, is offering a Priestess Initiation for women who are ready to embody the Divine Feminine and give their sacred gift to the world.

The initiation begins in only 4 days! and gives the concrete tools and initiations to graduate as a working priestess.

Beth offers tools from ancient lineages including the Shamanic, Angelic, Taoist, Shaolin, Qigong, Christ, Celtic, Western Magic, and the rare sacred sexual teachings from the White Tigress Taoist lineage of female masters.

This is a rare and unique opportunity. She is receiving only a handful of initiates this year.

If you are interested becoming an initiated Priestess, please review the program details here:

Priestess Path Program Details http://bethleone.net/priestess-program-for-women/

Feel free to reach out to Beth if you are interested or if you have any questions: info@bethleone.net

If you are interested please contact my good friend, Beth Leone, and let her know Corey sent you.
This is the cheesiest BS I've ever seen, I'll skip the hilarious & obvious bits (and the rather unbelievable CV) & just point out the usual conflicted new age BS, that is of seemingly melding Angelic & Christic with pagan, this is common with new agers & channellers in particular....all very non specific of course as the two things are at odds with each other...but then it goes on to open to "guides"....
What "guides" ???
By what means do they discern the nature of these entities ?  
What are they opening up to exactly ?
So we start off with "secret space program" & before long we are headlong into pagan & occult rituals, opening up to entities & becoming "priestesses" ...

I tell you the CG came back from DW's seminar at the beginning of 2015, he did a 180 degree turn around he went woo woo over night.

I think the whole show is run by entities.

Ria




Posts

: 1019


Points

: 2702


Join date

: 2016-02-27



Ria wrote:I tell you the CG came back from DW's seminar at the beginning of 2015, he did a 180 degree turn around he went woo woo over night.

I think the whole show is run by entities.
I'm certain it's run by entities, the same MO has been going on for decades in the ufo scene, and really if you look at the "meta data" you can go right back to John Dee...
.
Page 1 of 3 • 1, 2, 3


---
Permissions in this forum:
You
cannot
reply to topics in this forum