OUT! -The David Icke Videocast Trailer
David Icke
Published on Feb 26, 2016

Covering the current political situation in UK and Europe......etc.

He brings up some interesting points about Corbin, all is not what it seems.




https://m.youtube.com/watch?v=uDiGONVJqcU

Ria




Posts

: 1019


Points

: 2702


Join date

: 2016-02-27



Agenda 21, The Plan To Kill You - David Icke
David Icke 

825,873 views


304,975

Published on 14 Aug 2016
http://www.TheWorldWideWakeUp.com 2016/17

Agenda 21 or Agenda 2030 The Plan To Kill You - David Icke - The United Nations Depopulation Plan

The global cabal of U.N. Agenda 21 is behind global warming, regionalism, zoning, land and water use control, wealth redistribution, weakening and eventual replacement of the dollar as the world's reserve currency, global warming, cap and trade, Smart Grid, Smart Meters, carbon taxes, high gasoline prices, global citizens, IB World Schools, Common Core nationalized education standards, biofuels, Marxist advancement across the globe, food control, water access control via the Law of the Sea Treaty (LOST), gun control, health control, the Arab Spring/Winter, unchecked illegal immigration, and they are unstoppable.'



Ria




Posts

: 1019


Points

: 2702


Join date

: 2016-02-27




norman




Posts

: 455


Points

: 1191


Join date

: 2016-02-27



Thanks Norman,
It gets darker, I thought this tied in with the above.
Kushners Belong to Jewish Supremacist Doomsday Cult
April 9, 2017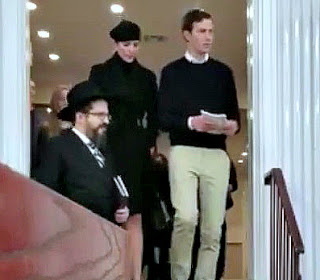 (Jared & Ivanka visit the Chabad Rebbe for a pre-election blessing Nov. 5, 2016)
Is Trump's Jared Kushner connection to
the Chabad Lubavitch sect the cause for his dramatic U-turn?
[size=18][size=23]The sect is
[/size]
deliberately
 fomenting a
prophesied
 Third World War. 
It believes Jews are God's 
chosen people 
and everyone 
else is trash.  In the book 
"Gatherings of Conversations" 
Rebbe Schneerson tells 
his followers that 
Jewish people are an extension
 of God and Gentiles are destined 
to serve the Jews. 
Historian Wolfgang Eggert says this 
is the real face of the Illuminati; the Rothschilds belong to this cult. He says 
this cult intends to initiate a nuclear holocaust in order to fulfill biblical prophecy and hasten the return of the Messiah:
"H
istory and politics are a big movie, and they are the directors, bringing old-testament-prophecy into reality. They captured freemasonry by building up the illuminati (through Rothschild/Jacob Frank/Weishaupt); they made a pact with the British monarchy when they financed William III to become king; they placed the British royals at the head of the Freemasons; they made the modern banking system and the Fed (through Rothschild); they made Zionism, the world wars, the European union and so on. They reign through their puppets Rothschild (whose ancestors had been part of the chassidic cult) and Rockefeller, who were the guiding force behind Bilderberg, the trilaterals etc. We are now in the "End Times"; they are trying to foment a "prophesied" Third World War."
[size=22]Chris Bjerkness agrees: Redemption requires the "King of the Jews" (the Rothschilds)  to rule the world after a nuclear holocaust. 
[/size]
[size=22]Jared Kushner attended Chabad House at Harvard.
[/size]
"Israel wasn't a political discussion for him; it was his family, his life, his people," said Hirschy Zarchi, rabbi at the Chabad House at Harvard.
Between 2003 and 2013, his family foundation donated a total of $342,500 to various institutions and projects associated with the movement. Especially endowed was
[size=22] the Chabad center at Harvard University, which received $150,000 in 2007 (the foundation's single 
biggest donation to a Lubavitch-affiliated enterprise) and then another $3,600 in 2013.  In addition
, the Donald J. Trump Foundation has donated $11,550 to three Chabad institutions.
[/size]
[size=22]In 2006, Kushner's father Charles was sentenced to 24 months in prison for making illegal campaign donations & witness tampering. 
[/size]
[/size]
- See more at: https://www.henrymakow.com/Kushner-Belongs-to-Fanatical-Jewish-Doomsday-Cult.html#sthash.lhiO8wXS.dpuf

Ria




Posts

: 1019


Points

: 2702


Join date

: 2016-02-27



Zionists and Jesuits are one and the same thing, as far as I can tell.

There's a pretty interesting thread about this stuff here:

http://projectavalon.net/forum4/showthread.php?97102-Eric-Jon-Phelps-exposes-Trump-the-most-important-message-on-Trump&p=1145801&viewfull=1#post1145801

norman




Posts

: 455


Points

: 1191


Join date

: 2016-02-27





Similar topics
---
Permissions in this forum:
You
cannot
reply to topics in this forum