75% of Children Who Received Vaccines in Mexican Town Now Dead or Hospitalized
Despite the insidious attempts of the corporate-controlled U.S. media to censor the stories about the deadly side effects of vaccines, the truth keeps surfacing.
by Mike Adams
The latest vaccine tragedy to strike has killed two babies in La Pimienta, Mexico and sent 37 more to the hospital with serious reactions to toxic vaccine additives. (Tweet this story)
"...14 children are in serious condition, 22 are stable and one is in critical condition," the Chiapas Health Secretariat said in a statement via Latino.FoxNews.com.
What's especially alarming is that only 52 children were vaccinated in all, meaning that 75% of those receiving the vaccines are now either dead or hospitalized.
The vaccines were administered by the Mexican Social Security Institute, known as IMSS.
The IMSS confirmed the deadly reactions occurred after children received injections of vaccines for tuberculosis, rotavirus and hepatitis B — the same viral strains targeted by vaccines routinely administered to children in the United States.
IMSS suspends vaccination pending further investigation
According to Fox News Latino, the IMSS has suspended the vaccines pending the outcome of an investigation into why so many children have been killed and hospitalized.
According to the entire mainstream media in the United States — which is 100% controlled by corporate interests — vaccines never harm anyone and are perfectly safe to inject into children in unlimited quantities.
This dangerous, inhumane "Vaccine Injury Denialism" is rampant across the corporate-controlled media, which contributes to the deaths of innocent babies and children by refusing to acknowledge the truth that vaccines kill and injure children on a regular basis.
Just recently, in fact, the UK government agreed to pay $90 million to victims of the swine flu vaccine.
That vaccine caused permanent brain damage to over 800 children across Europe. The truth is that vaccines regularly harm and even kill innocent children, most likely because of the toxic chemical adjuvants and preservatives they still contain.
As the CDC openly admits, vaccines are still intentionally formulated with mercury, aluminum, MSG and formaldehyde.
Some vaccines even use ingredients derived from aborted human fetal tissue. Last year, a CDC scientist blew the whistle on the CDC committing scientific fraud to cover up links between vaccines and autism in young African-American males.
Test run for depopulation via vaccines?
As globalists now fully realize, vaccines are by far the best way to cull the human population because most people can be tricked into lining up and asking for them.
Read: Ebola Vaccine Pioneer Jokes About Culling Population With GMO Virus
Thus, there's no need to resort to all the difficulties used by the Nazis to commit genocide in World War II, involving complex logistics of railroad cars, gas chambers, construction of mass graves, prisoner tracking via IBM computing technology, and so on.
(Yes, Nazi genocide and prisoner tracking was powered by early IBM computers. See IBM and the Holocaust, the strategic alliance between Nazi Germany and America's most powerful corporation...)
As the vaccine industry has now come to realize, it's so much easier to kill people when they voluntarily comply with the injections.
Hence the aggressive media propaganda push to achieve absolute blind obedience to vaccines so that no one will ask questions when sterilization or euthanasia chemicals are used.
That's no doubt why vaccines have been routinely tested for depopulation programs via two primary methods:
# 1) Achieve covert sterilizations of targeted populations by combining sterilization chemicals with vaccines. (The "slow kill.")
# 2) Directly kill vaccine recipients by intentionally lacing vaccines with euthanasia chemicals that cause death. (The "fast kill.")
Method #1 has been repeatedly used throughout Africa, Mexico and South America to inflict sterilization upon targeted groups via immunization and vaccination programs. Just last year, in fact, I reported on the discovery of a covert depopulation vaccine program being run in Kenya:
Tetanus vaccines given to millions of young women in Kenya have been confirmed by laboratories to contain a sterilization chemical that causes miscarriages, reports the Kenya Catholic Doctors Association, a pro-vaccine organization.
A whopping 2.3 million young girls and women are in the process of being given the vaccine, pushed by UNICEF and the World Health Organization.
"We sent six samples from around Kenya to laboratories in South Africa. They tested positive for the HCG antigen," Dr. Muhame Ngare of the Mercy Medical Centre in Nairobi told LifeSiteNews. "They were all laced with HCG."
Method #2 now appears to be under way in Mexico as 75% of those children injected with vaccines are now either dead or hospitalized.
Vaccine-induced depopulation was attempted in Mexico in 1974
As Truth Stream Media exhaustively documented, a depopulation exercise was run in Mexico in 1974, using vaccines as the cover story.
The scheme was dreamed up after the release of the National Security Study Memorandum 200 which highlighted the global population problem and urged governments to find ways to reduce the global population.
As TruthStreamMedia.com explains:
Concentration on this "problem" of how to reduce the population was planned for 13 key countries, including India, Bangladesh, Pakistan, Nigeria, Mexico, Indonesia, Brazil, the Philippines, Thailand, Egypt, Turkey, Ethiopia and Colombia.
Of those, the document singled out Mexico as having one of the highest (and therefore, most worrisome) growth rates of all.
The document read:
"Perhaps the most significant population trend from the viewpoint of the United States is the prospect that Mexico's population will increase from 50 million in 1970 to over 130 million by the year 2000."
To combat this problem, "medical spooks" — who were almost certainly U.S.-funded depopulation vaccine crews — began injecting women all across Mexico with anti-fertility drugs disguised as vaccines.
If you doubt this, read your history.
The U.S. government's National Institutes of Health was caught red-handed running human medical experiments on prisoners in Guatemala.
President Obama was even forced to publicly apologize in 2011 after the cover-up collapsed! There is nothing the Nazis did in the 1930s and 40s that the pharmaceutical industry wouldn't be willing to repeat today under the label of "science."
But getting back to Mexico, as the covert depopulation vaccination program spread across Mexico City in 1974, locals began to catch on to the deception, and public resistance grew.
As these newspaper clippings reveal, parents began hiding their children in their own homes to avoid them being injected with sterilization chemicals at the public schools.
(California, by the way, also targets children at schools in order to avoid parents having the opportunity to say "No!")
Mexico City — Associated Press — Rumors that persons disguised as inoculation teams were giving school children shots that sterilized them forced health authorities to suspend all vaccination drives today and to post police outside Mexico City schools.
Thousands of parents stormed various schools in the Mexico City area Tuesday and took their children home.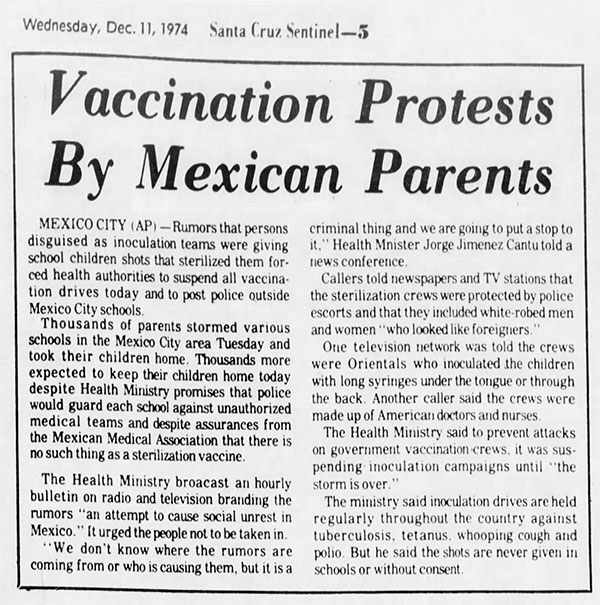 For the complete article:
http://humansarefree.com/2016/03/75-of-children-who-received-vaccines-in.html

Ria




Posts

: 1020


Points

: 2703


Join date

: 2016-02-27



Hear The Silence (2003) Dr Andrew Wakefield Drama
humanati
Published on Feb 27, 2013Drama about Dr Andrew Wakefield & the parents of vaccine injured children.
Recently Kathleen Yazbak recalled her involvement in the film:
"Our family's autism journey has been challenging and humbling, like that of the many who have tread the same path. We were fortunate to have the ear of an amazing screenwriter [Tim Prager] who also dug deep with his own independent research of the situation and engaged countless others so this story could be told and the movie created. It is our hope that parents and grandparents try to make a difference in the dialogue about autism."
When it was first screened the British radical investigative journalist, Paul Foot, wrote in the Guardian:
"Last week's Channel Five programme Hear the Silence about the MMR controversy was one of the best dramas I have seen. It was not just a moving true story, beautifully acted. It was also a shocking indictment of the medical establishment. A group of parents were confronted with the fear that their children had become autistic after having the triple vaccine for measles, mumps and rubella. A responsible authority should surely take such fears seriously and deploy the full extent of scientific research to testing the fears, if only to allay them. The reaction of the authorities was exactly the opposite.
"The one senior doctor who took the parents seriously, Andrew Wakefield, had his research stopped and was effectively banished to the US. Despite his record as an often published scientist, he was widely smeared. Legal aid for the parents to sue the government was cut off.
"On the programme, the two sides confronted each other. On the parents' side there was anguished concern, backed by sober science from Wakefield. On the other was outraged impatience, led by two slightly fanatical GPs, including Evan Harris, the Liberal Democrat MP for Oxford West. He insisted there was no link between autism and MMR, and loudly failed to prove that this was so. Instead, he went some way to proving the time-honoured medical principle that doctors know everything, and patients nothing."
Very sadly, a few months later Foot died and our children were not only ruthlessly abandoned by the Guardian newspaper but by Private Eye, the journal with which Foot was also closely associated.
As a parent of a child given autism following vaccination I hope this film helps other parents to research & discover the TRUTH before allowing their children to be vaccinated.
Love & respect to Dr Andrew Wakefield, the parents & film makers for their compassion, courage & integrity.
http://www.vaccinationcouncil.org/
The International Medical Council on Vaccination is an association of medical doctors, registered nurses and other qualified medical professionals whose purpose is to counter the messages asserted by pharmaceutical companies, the government and medical agencies that vaccines are safe, effective and harmless.
Our conclusions have been reached individually by each member of the Council, after thousands of hours of personal research, study and observation. - See more at:
http://www.vaccinationcouncil.org/about/#sthash.4dqh31Lz.dpuf
Please watch these videos & share with parents & parents to be. Thank you.
Vaccine Nation by Dr Gary Null
http://www.youtube.com/watch?v=494NacYFmko
Autism: Made In The USA by Dr Gary Null
http://www.youtube.com/watch?v=Scl2rrq7hCY
Vaccination: The Hidden Truth
http://www.youtube.com/watch?v=cqsT5EoIk8U
Lots of Law Little Justice: Dr Andrew Wakefield and the Acquittal of Professor John Walker-Smith
http://www.ecomed.org.uk/wp-content/uploads/2012/05/little-justice-walker.pdf
The vaccination policy and the Code of Practice of the Joint Committee on
Vaccination and Immunisation (JCVI): are they at odds?
Lucija Tomljenovic, PhD
http://www.ecomed.org.uk/wp-content/uploads/2011/09/3-tomljenovic.pdf
The Health Hazards Of Disease Prevention by Dr David Freed
http://www.ecomed.org.uk/publications/the-health-hazards-of-disease-prevention/403
Vaccines, Atopy & allergy: Problems & Solutions
Dr Richard Halvorsen
http://www.ecomed.org.uk/wp-content/uploads/2011/09/2-halvorsen.pdf
Labels of Convenience: Are Labels of Child Abuse being used to cover up Vaccine Damage?
Christina England
http://www.ecomed.org.uk/wp-content/uploads/2011/09/4-england.pdf
The UK Health Select Committee Report
'The Influence of the Pharmaceutical Industry' published April 2005
Doris M Jones MSc
http://www.ecomed.org.uk/wp-content/uploads/2011/09/9-jones.pdf
'ASIA' — Autoimmune/inflammatory syndrome induced by adjuvants
Professor Yehuda Shoenfeld
http://www.ecomed.org.uk/wp-content/uploads/2011/10/shoenfeld-link.pdf

Ria




Posts

: 1020


Points

: 2703


Join date

: 2016-02-27



DOCUMENTARY ON MMR VACCINE COVER-UP PREMIERES AT TRIBECA FILM FESTIVAL: VAXXED
KafkaWinstonWorld
Published on Mar 27, 2016
This post is fair use of copyrighted material, posted for educational, nonprofit purposes only. The trailer alone exposes the lies of the CDC, so please circulate, and subscribe to JonasSunshine.
https://www.youtube.com/watch?v=EdCU2DfMBpU
https://www.youtube.com/user/JonasSunshine/videos
*
Related
Former science chief: 'MMR fears coming true'
By SUE CORRIGAN, Mail on Sunday
Last updated at 16:08 22 March 2006
A former Government medical officer responsible for deciding whether medicines are safe has accused the Government of "utterly inexplicable complacency" over the MMR triple vaccine for children.
Dr Peter Fletcher, who was Chief Scientific Officer at the Department of Health, said if it is proven that the jab causes autism, "the refusal by governments to evaluate the risks properly will make this one of the greatest scandals in medical history".
He added that after agreeing to be an expert witness on drug-safety trials for parents' lawyers, he had received and studied thousands of documents relating to the case which he believed the public had a right to see.
He said he has seen a "steady accumulation of evidence" from scientists worldwide that the measles, mumps and rubella jab is causing brain damage in certain children.
But he added: "There are very powerful people in positions of great authority in Britain and elsewhere who have staked their reputations and careers on the safety of MMR and they are willing to do almost anything to protect themselves."
His warning follows reports that the Government is this week planning to announce the addition of a jab against pneumococcal meningitis for babies, probably from next April. It is also considering flu jabs for under-twos - not to protect the children, but adults they may infect.
In the late Seventies, Dr Fletcher served as Chief Scientific Officer at the DoH and Medical Assessor to the Committee on Safety of Medicines, meaning he was responsible for deciding if new vaccines were safe.
He first expressed concerns about MMR in 2001, saying safety trials before the vaccine's introduction in Britain were inadequate.
Now he says the theoretical fears he raised appear to be becoming reality.
He said the rising tide of autism cases and growing scientific understanding of autism-related bowel disease have convinced him the MMR vaccine may be to blame.
"Clinical and scientific data is steadily accumulating that the live measles virus in MMR can cause brain, gut and immune system damage in a subset of vulnerable children," he said.
"There's no one conclusive piece of scientific evidence, no 'smoking gun', because there very rarely is when adverse drug reactions are first suspected. When vaccine damage in very young children is involved, it is harder to prove the links.
Read more:
http://www.dailymail.co.uk/health/article-376203/Former-science-chief-MMR-fears-coming-true.html#ixzz44BgV1egO

Ria




Posts

: 1020


Points

: 2703


Join date

: 2016-02-27



Italian Court Rules Mercury And Aluminum In Vaccines Cause Autism: US Media Continues Total Blackout Of Medical Truth
March 22, 2016
(Jonathan Benson) It has been more than five months since an Italian court in Milan awarded compensation to the family of a young boy who developed autism from a six-in-one hexavalent vaccine manufactured by corrupt British drug giant GlaxoSmithKline (GSK), and the U.S. media is still nowhere to be found in reporting on this breakthrough ruling.
On September 24, 2014, Italy's version of the National Vaccine Injury Compensation Program agreed that GSK's "INFANRIX Hexa" vaccine for polio, diphtheria, tetanus, hepatitis B, pertussis and haemophilus influenza type B induced permanent autism and brain damage in the previously healthy child, whose name has been kept private for safety.
The vaccine, which contains multiple antigens, thimerosal (mercury), multiple forms of aluminum, formaldehyde, recombinant (genetically modified) viral components and various chemical preservatives,[PDF] demonstrably caused the young boy to regress into autism shortly after he received all three doses of the vaccine, prompting his family to petition the case before Italy's Ministry of Health.
When the Ministry rejected it, the family proceeded to file a lawsuit, which is no longer an option in the U.S. thanks to a Supreme Court ruling that exempts drug companies from legal liability when their products harm, permanently disfigure or kill people.
After listening to expert medical testimony, the Italian court remarkably concluded that the boy suffered permanent harm as a result of the vaccine, and particularly its neurotoxic mercury and aluminum components.
Confidential GSK report reveals that INFANRIX Hexa causes brain damage, anal leakage, autism and more
Also presented as evidence was a 1,271-page confidential GSK report revealing that the drug giant knew full well from human clinical trials that INFANRIX Hexa causes autism, but the company chose to release the vaccine anyway. At least five known cases of autism arising from the jab are listed in the report on page 626, in fact:
At the conclusion of this damning report, GSK admits that INFANRIX Hexa can cause a wide range of deadly illnesses but insists that its risk-benefit profile "continues to be favourable." Listed among INFANRIX Hexa's adverse events are:
• Anemia hemolytic autoimmune disease (premature destruction of red blood cells)
• Thrombocytopenia (low blood platelet count)
• Thrombocytopenia purpura (blood clots in small blood vessels)
• Autoimmune thrombocytopenia (immune system destroys blood platelets)
• Idiopathic thrombocytopenic purpura (excessive bruising or bleeding from lack of platelets)
• Hemolytic anemia (red blood cells destroyed and removed from bloodstream prematurely)
• Cyanosis (skin discoloration caused by lack of oxygen at skin's surface)
• Injection site nodules, abscesses and injection site abscesses
• Kawasaki's disease (inflammation of arteries)
• Encephalitis (inflammation of the brain)
• Encephalopathy (abnormal brain function)
• Hematochezia (passage of blood through the anus)
• Allergic reactions (including anaphylactic and anaphylactoid reactions)
• Death
Italian courts also found MMR vaccine causes autism
The ruling by the court, which is now being challenged by the Ministry of Health, comes upon the heels of an earlier one from 2012. Judge Lucio Ardigo found that the popular measles, mumps and rubella vaccine, also known as MMR, caused another child's autism. A 15-month-old boy who previously had no health conditions suddenly developed severe bowel and eating problems after getting the MMR vaccine. He was later diagnosed with autism.
The court found that the boy had "been damaged by irreversible complications due to vaccination (with trivalent MMR)," read the official court documents, according to Age of Autism.
"There is a desperate need for more science on autism and the role that vaccines play, flimsy industry, medical and government retorts to the contrary notwithstanding," wrote Mary S. Holland for the health news and information site.
http://republicbroadcasting.org/news/italian-court-rules-mercury-and-aluminum-in-vaccines-cause-autism-us-media-continues-total-blackout-of-medical-truth/
Sources:
http://www.ageofautism.com

Ria




Posts

: 1020


Points

: 2703


Join date

: 2016-02-27



---
Permissions in this forum:
You
cannot
reply to topics in this forum