Page 1 of 2 • 1, 2




NEW VIDEO: Saving Miley: a MUST SEE rescue + a video update ONE year later!!! Please share.
Hope For Paws - Official Rescue
Please SHARE this video
To make a small donation to Hope For Paws, please visit: http://www.HopeForPaws.org
To visit Wondros and see more of their amazing projects, please visit: http://www.wondros.com

Ria




Posts

: 1019


Points

: 2702


Join date

: 2016-02-27



Animals and Humanity.

pretty good title,that speaks for itself.
i am sure that animals can take care of themselves as they have for thousands of years.
i know that what we can see now that humanity is able to destroy all species from a animal to a microbe that is essential to this planet and it,s eco system.

Humans have done enough damage.

ronin




Posts

: 21


Points

: 77


Join date

: 2016-04-03






CHIEF WOMBAT CUDDLER COMPETITION

Vacancy: Chief Wombat Cuddler

There's one cute little Flinders Island resident that has received a lot of online attention lately (largely thanks to this video footage):


Video: Sean Scott Photography

There's no doubt Derek the wombat has won Australia's hearts, with many wishing they could cuddle him – even for just a short moment. (And let's be honest, every parent needs a break now and then – even the foster parents of super-cute marsupials!)

Fellow Australians and Dezza lovers, brace yourselves: Flinders Island is seeking a Chief Wombat Cuddler. (Cue squeals of excitement!)

Not only will you and a friend be flown from your nearest Australian capital city to Tasmania's Flinders Island to smother our little friend with cuddles, you'll get to spend three nights exploring Derek's island home.

Entry is only open to Australia residents aged 18 years or older and the competition closes at 10pm AEDST on 16 April 2016. Conditions apply. Please see full Terms & Conditions for details.

Don't miss your chance!

(Non-cuddlers need not apply…)

http://gobehindthescenery.com.au/insiders-guide/competition/#.VwNcGHCkqrV



Ria




Posts

: 1019


Points

: 2702


Join date

: 2016-02-27



Dog Kept Showing Up At A Neighbor's House For One Very Good Reason
Every now and then a dog story like this makes its way around the Internet to put a smile on everyone's face.
"An older, tired-looking dog wandered into my yard; I could tell from his collar and well-fed belly that he had a home and was well taken care of. He calmly came over to me, I gave him a few pats on his head; he then followed me into my house, slowly walked down the hall, curled up in the corner and fell asleep. An hour later, he went to the door, and I let him out.
"The next day he was back, greeted me in my yard, walked inside and resumed his spot in the hall and again slept for about an hour. This continued off and on for several weeks.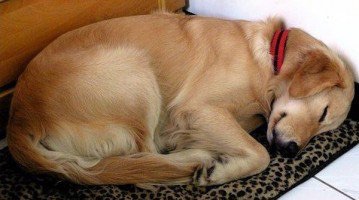 "Curious I pinned a note to his collar, 'I would like to find out who the owner of this wonderful sweet dog is and ask if you are aware that almost every afternoon your dog comes to my house for a nap.'
"The next day he arrived for his nap, with a different note pinned to his collar, 'He lives in a home with 6 children, 2 under the age of 3 and he's trying to catch up on his sleep. Can I come with him tomorrow?'"
Share this tired dog's story with your family and friends!
Read more at http://www.reshareworthy.com/dog-tired/#IoSIrkDzhFsWzmuQ.99

Ria




Posts

: 1019


Points

: 2702


Join date

: 2016-02-27






Unbelievable Animals That Saved People's Lives

Ria




Posts

: 1019


Points

: 2702


Join date

: 2016-02-27






Man Goes The Distance For Tiny Hummingbird His Dog Helped Rescue
CBS Los Angeles
Published on Apr 26, 2016
A man in Whittier has gone the distance for a tiny hummingbird his once-feral dog helped rescue. Kristine Lazar reports.

Ria




Posts

: 1019


Points

: 2702


Join date

: 2016-02-27



This thread is awesome

HumanityThis Irishman Saved 2 Foxes And Now They Won't Leave His Side
Meet Patsy Gibbons, an Irishman from County Kilkenny, Ireland. He's dad to Grainne and Minnie.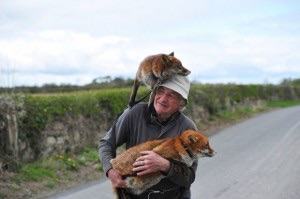 Gibbons found the foxes abandoned as pups and, worried for their survival, nursed them back to health.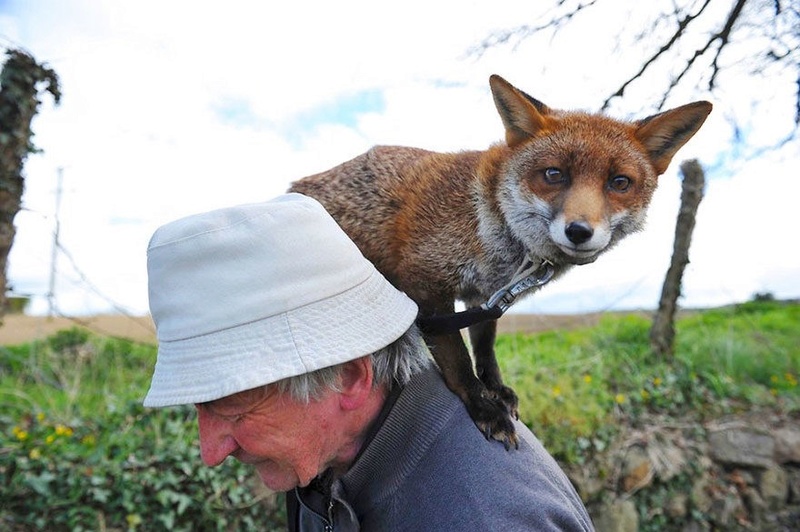 Thankfully, the adorable foxes made a full recovery. But instead of returning to the wild, they decided to adopt Patsy as their dad.
Unsurprisingly, the trio receive a lot of attention from local children, so much so that schools in the area invite the unusual threesome to meet the kids.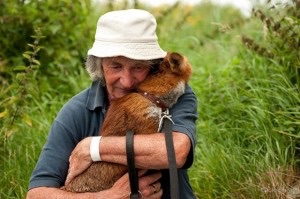 "I now have people from all over the country and indeed the UK asking me for advice on looking after foxes," Gibbons told The Irish Examiner.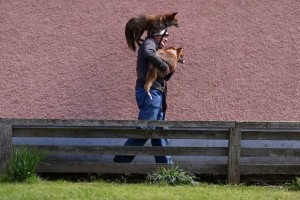 I'm no expert and I'm still learning from them day-by-day (but) I'm happy to advise as a lay person."
As a keen animal lover, Patsy has 28 hens, 12 ducks, two dogs and two cats, as well as his three foxes. And apparently, they all get along very well.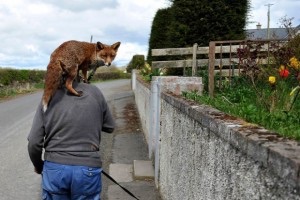 http://pulptastic.com/foxy-family/

Ria




Posts

: 1019


Points

: 2702


Join date

: 2016-02-27



Baby Elephant Can't Stop Following Her Rescuer After Being Saved From Death

Moyo was saved from drowning at just a few days old after he was washed away while trying to cross a flooded river with his herd. He was then abandoned by the older elephants but, luckily, rangers found him just as a pack of hyenas had him surrounded.

He was taken to the Wild Is Life animal sanctuary in Zimbabwe, where he became very attached to founder Roxy.

So attached that he won't let her out of his sight.

'She is one of those animals with whom I have formed an extraordinary bond of friendship, trust and love. Letting go will be hard,' Roxy told the team from BBC documentary Nature's Miracle Orphans.
More about "Wild Is Life" Sanctuary: "We believe that the elephant nursery is about affording the individual orphans a second chance at life. These orphans, who have been severely traumatized, deserve the opportunity to grow and thrive in the natural world.



Baby elephant causes havoc at home - Nature's Miracle Orphans: Series 2 Episode 1 Preview - BBC One


Ria




Posts

: 1019


Points

: 2702


Join date

: 2016-02-27



AUSTRALIA'S OLDEST MAN, WHO KNITTED JUMPERS FOR PENGUINS, HAS DIED AT 110
VIDEO HIGHLIGHTS FROM ODDBALL: THE NATURE OF A MOVIE
Alfie Date received worldwide praise for making sweaters for penguins after an oil spill.

http://www.natgeotv.com.au/animals/australias-oldest-man-who-knitted-jumpers-for-penguins-has-died-at-110.aspx


Ria




Posts

: 1019


Points

: 2702


Join date

: 2016-02-27



Page 1 of 2 • 1, 2



Similar topics
---
Permissions in this forum:
You
cannot
reply to topics in this forum