Page 1 of 4 • 1, 2, 3, 4


Theoretical Alternatives in an Electric Universe | Space News



https://www.youtube.com/watch?v=ZBWOH9Wu2c0

Published on Mar 30, 2016

JOIN US for the EU2016 Conference: Elegant Simplicity//June 17-19//https://www.thunderbolts.info/wp/2015...

In the 20th century, institutionalized science embraced the concept of a Universe dominated by invisible forces and entities. We are told that at the core of every large galaxy is a supermassive black hole, a region which is said to have such an intense gravitational field that nothing can escape, not even light. The concept of the black hole is thought to account for the stupendous energies and mass at galactic cores. In our own celestial neighborhood, we are told that the outer reaches of the solar system is a never-seen, spherical cloud of icy bodies known as the Oort Cloud, from which most long-period comets supposedly originated.

Black holes and the Oort Cloud are the products of the standard model of cosmology in which gravity is the predominant force. In this Space News, Thunderbolts colleague Nicholas Sykes discusses the tenability of these concepts in the light of science discovery and explores some of the theoretical alternatives in an Electric Universe.

Archive of Nicholas' contributions on the Thunderbolts website: Sykes | Search Results | thunderbolts.info

SUPPORT US ON PATREON AND WATCH OUR INFLUENCE GROW: "Changing the world through understanding of the Electric Universe." https://www.patreon.com/user?u=180095...

Subscribe to Thunderbolts Update newsletter: http://eepurl.com/ETy41
The Thunderbolts Project Home: http://www.thunderbolts.info
Essential Guide to the Electric Universe: http://www.thunderbolts.info/wp/eg-co...
Facebook: https://www.facebook.com/thunderboltsp...
Twitter: @tboltsproject
Electric Universe by Wal Thornhill: http://www.holoscience.com/wp/
Electric Universe T-shirts and Gifts: http://www.thunder-stuff.com

The ideas expressed in videos presented on The Thunderbolts Project YouTube Channel do not necessarily express the views of T-Bolts Group Inc or The Thunderbolts Project(TM).
https://www.youtube.com/watch?v=PSiKiFyLDns
For the first time ever, an image has been captured of an elusive electrical phenomenon above the Earth. An astronaut aboard the International Space Station imaged a kind of electrical discharge in the upper atmosphere known as a blue jet. In this Space News, we explore why this type of intense above clouds lightning occurs, and we also ask a fundamental question: do scientists understanding lightning?
Wal Thornhill article, "The balloon goes up over lightning": http://www.holoscience.com/wp/the-balloon-goes-up-over-lightning/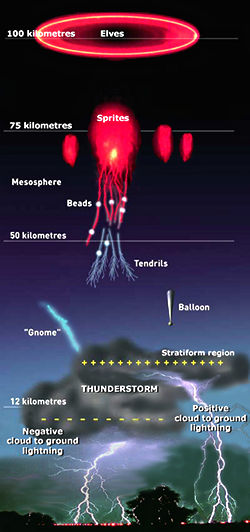 Links at https://www.youtube.com/watch?v=-FbbcGpcFNs

The planet Venus presents many unresolved mysteries to planetary scientists. However, equally mysterious is Venus' extraordinary role in the world's ancient astronomies. In this Space News episode, we explore the remarkable electrical environment of Venus today, and the evidence for its dramatic impact on human history.


https://www.youtube.com/watch?v=9wJp13z0MVI


A recently published scientific paper is creating a firestorm of media coverage around the world. The paper's lead author, Daniel Whitmire, proposes that the hypothesized Planet X, a never-discovered body believed by some to exist in the outer solar system, is responsible for mass extinctions on Earth approximately every 27 million years. Recently, researchers at Caltech have inferred Planet X's presence from orbital anomalies in Kuiper Belt objects. Wal Thornhill discusses the tenability of these claims from an Electric Universe perspective.

Planet X: Five Fast Facts You Need to Know: http://heavy.com/news/2016/04/daniel-whitmire-astrophysicist-planet-nine-x-will-end-life-destroy-world-extinction-comet-dinosaurs-nibiru/

Dwardu Cardona's presentation (delivered by Wal Thornhill) "Order Out of Chaos," at EU2015: https://www.youtube.com/watch?v=6kWz6duTcOE




Throughout our culture, certain figures stand as iconic symbols of scientific genius. Long after their lives have ended, the respective works of these icons continue to shape the direction of the sciences. In the fields of physics and astronomy, the figures who stand tallest share one thing in common -- all envisioned a Universe in which the force of gravity predominates. But less celebrated in the annals of official history is the work of scientific pioneers who shared a different vision of the Universe, one in which the predominant force is not gravitational, but electrical. In this Space News episode, Thunderbolts colleague Bishop Nicholas Sykes explores the foundations that early experimentalists laid for the Electric Universe theory of today.

Links at https://www.youtube.com/watch?v=68CYDoFh0DI


https://www.youtube.com/watch?v=czLTIp1Ht5U

In a previous Space News, Thunderbolts colleague Nicholas Sykes began exploring the historical foundations of the Electric Universe theory of today. As he has noted, the experimental research of the electrical pioneers stands in stark contrast to the thought experiments performed by the father of modern physics, Albert Einstein. In this episode, the ability of the electric universe to add new clarity to the mainly mathematical theories of physics and cosmology is explored..



https://www.youtube.com/watch?v=yBvo7lvfg8Y

The question of the Sun's possible role in triggering large earthquakes is a subject of growing scientific interest. For decades, some have noted apparent correlations between dramatic solar phenomena and seismic activity. Yet definitive scientific proof of a connection has remained elusive. Recently, the founder of Suspicious0bservers, Ben Davidson, and colleagues published a landmark scientific paper revealing compelling statistical evidence of a role of solar activity in triggering large earthquakes. In this Space News, Ben gave us the latest developments in his research as well as a brief preview of his forthcoming talk at EU2016 Conference: Elegant Simplicity, June 17 -19 in Phoenix, Arizona.



https://www.youtube.com/watch?v=vXh-KVV9ZIY

A spectacular recently released image of the surface of the dwarf planet Pluto is yet again sending planetary scientists back to the drawing board. In the informally named Vega Terra region is a dramatic field of craters with bright rims and blackened floors. Investigators with NASA's New Horizons team have dubbed the features "halo craters," given the bright methane seen on the craters rims, in contrast to the darker surrounding terrain. However, in this recently released image, stretching well beyond the region of so-called Halo craters to which NASA has drawn our attention, we see a cratered surface that resembles many other rocky bodies in our solar system. The abundant circular craters seen throughout the image are difficult to explain in conventional reasoning, given the low velocities of objects in the Kuiper belt. In this Space News, we discuss this and other mysteries with Pluto's geology that may have an answer in the Electric Universe theory.

Link to New Horizons image discussed in this report: http://www.nasa.gov/sites/default/files/thumbnails/image/nh-halo_context-scale_20160421.jpg

Electrical Geology of Pluto and Comet 67P: https://www.youtube.com/watch?v=KqVOxq7mE48


https://www.youtube.com/watch?v=_MFI4ihKURk

In 2015, Space News From the Electric Universe reported on a so-called baffling mystery on the planet Mars. Science news headlines reported on seemingly inexplicable plumes which amateur astronomers spotted rising hundreds of kilometers above the surface of Mars. Recently, a team of scientists using data from the Mars Express spacecraft have found something completely unexpected to mainstream planetary scientists: a coronal mass ejection appeared to hit Mars immediately before the plume was first spotted. A New Scientist report on these findings states, "One possibility is that plasma could be interacting with ice grains or dust lower down in the atmosphere and electrically charging them, boosting them higher...."



https://www.youtube.com/watch?v=vXvvukD4Kqg

Recent episodes of Space News from the Electric Universe have provided a groundbreaking foundation for a new beginning in Earth geology. Thunderbolts contributor Andrew Hall has introduced his hypothesis for the formation of familiar geological features, not from incremental processes over eons of time, but rather, due to high-energy electrical discharges in Earth's unique atmosphere.
In this episode, Hall concludes this video series with a closer examination of evidence for dramatic, electrical scarring of Earth's surface.

Page 1 of 4 • 1, 2, 3, 4



Similar topics
---
Permissions in this forum:
You
cannot
reply to topics in this forum