After the leaks today showing just what it really stands for, this could be the end for TTIP
The documents show that US corporations will be granted unprecedented powers over any new public health or safety regulations to be introduced in future. If any European government does dare to bring in laws to raise social or environmental standards, TTIP will grant US investors the right to sue for loss of profits
web-obama-cameron-rex.jpg
President Obama's trip to London last week has partly been seen as an effort to drum up support for TTIP before the end of his time in the White House Getty
Today's shock leak of the text of the Transatlantic Trade and Investment Partnership (TTIP) marks the beginning of the end for the hated EU-US trade deal, and a key moment in the Brexit debate. The unelected negotiators have kept the talks going until now by means of a fanatical level of secrecy, with threats of criminal prosecution for anyone divulging the treaty's contents.
Now, for the first time, the people of Europe can see for themselves what the European Commission has been doing under cover of darkness - and it is not pretty.
The leaked TTIP documents, published by Greenpeace this morning, run to 248 pages and cover 13 of the 17 chapters where the final agreement has begun to take shape. The texts include highly controversial subjects such as EU food safety standards, already known to be at risk from TTIP, as well as details of specific threats such as the US plan to end Europe's ban on genetically modified foods.
UK Parliament 'would not be able to stop NHS sell-off under TTIP'
The documents show that US corporations will be granted unprecedented powers over any new public health or safety regulations to be introduced in future. If any European government does dare to bring in laws to raise social or environmental standards, TTIP will grant US investors the right to sue for loss of profits in their own corporate court system that is unavailable to domestic firms, governments or anyone else.
For all those who said that we were scaremongering and that the EU would never allow this to happen, we were right and you were wrong.
The leaked texts also reveal how the European Commission is preparing to open up the European economy to unfair competition from giant US corporations, despite acknowledging the disastrous consequences this will bring to European producers, who have to meet far higher standards than pertain in the USA.
According to official statistics, at least one million jobs will be lost as a direct result of TTIP – and twice that many if the full deal is allowed to go through. Yet we can now see that EU negotiators are preparing to trade away whole sectors of our economies in TTIP, with no care for the human consequences.
For the full story
http://www.independent.co.uk/voices/ttip-leaks-shocking-what-are-they-eu-us-deal-a7010121.html

Ria




Posts

: 1020


Points

: 2703


Join date

: 2016-02-27



TTIP Leaks
Greenpeace Netherlands has released secret TTIP negotiation documents. We have done so to provide much needed transparency and trigger an informed debate on the treaty. This treaty is threatening to have far reaching implications for the environment and the lives of more than 800 million citizens in the EU and US.
Whether you care about environmental issues, animal welfare, labour rights or internet privacy, you should be concerned about what is in these leaked documents. They underline the strong objections civil society and millions of people around the world have voiced: TTIP is about a huge transfer of power from people to big business.
You can download all the documents below, as a whole and per chapter. For more background info on the content of these documents and TTIP in general, please check here. Press contacts can be found here.
https://www.ttip-leaks.org

Ria




Posts

: 1020


Points

: 2703


Join date

: 2016-02-27




Monk




Posts

: 318


Points

: 800


Join date

: 2016-02-27


Location

: Within reach of pitchfork



We did it: Thanks to SumOfUs members like you, we totally stole Obama's and Merkel's thunder on TTIP last week!
A whopping 90,000 people marched the streets of Hannover, Germany -- and right in the middle: The faces of SumOfUs members from the US!
The media response was huge -- check out this screenshot of a video on the website of a major German news outlet:
http://www.sueddeutsche.de/politik/hannover-ttip-demo-make-love-not-chlorhuehnchen-1.2963739
SumOfUs at the front of the demo against TTIP and CETA in Hannover
SumOfUs right at the front of a 90,000-strong demonstration against TTIP in Germany.
Our resistance has never been more important: TTIP negotiation documents leaked Monday by Greenpeace just confirmed our biggest fears about TTIP -- the trade pact undermines our democracy and puts consumer and environmental protection on the line.
That is why I am so grateful to the SumOfUs community for chipping in and making the massive protests in Hannover possible. Obama and Merkel tried hard to promote TTIP at the biggest trade fair in the world -- but in the end it was us who dominated the media!
Thanks to the SumOfUs-members in the United States who send us their solidarity selfies, we were able to send a strong, transatlantic message: People from Europe and the United States are standing together against corporate power grabs!
Anti-TTIP-protesters carrying solidarity selfies of SumOfUs-members in the US.
SumOfUs-members from the US at the demo in Hannover -- at least their selfies! Click here to see more pictures
https://www.flickr.com/photos/sumofus/sets/72157666992491380/with/26607475076/
Three years ago, conventional wisdom said that in the epic fight between corporate-backed trade deals and regular citizens, stopping these dangerous deals would be nearly impossible.
Now, we are closer than ever to stopping the dangerous TTIP: A recent study by the Bertelsmann foundation showed that support for TTIP is rapidly declining -- on both sides of the Atlantic.
I am confident: If we keep on standing together against TTIP, we can stop this dangerous deal once and for all!
This is Luke's attempting transparency!
Click here for short video.
http://www.broadsheet.ie/2016/05/04/lukes-ttip/
Luke's TTIP
Bodger
Luke 'Ming' Flanagan MEP writes: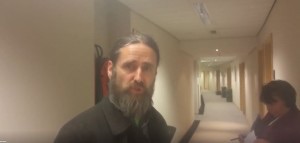 Just been contacted by staff from within the Euro Parliament and told I must remove this video. I won't be. #TTIP
Previously: TTIP Of The Iceberg
TTIPing Point
Globalist Warning
TTIP?

Ria




Posts

: 1020


Points

: 2703


Join date

: 2016-02-27



The video on the link on the above post is a "must watch".
Have things really come to this

---
Permissions in this forum:
You
cannot
reply to topics in this forum