Nearly 100 schoolchildren 'possessed by the devil' have 'contagious visions' of man in black trying to kill them

The mass case of 'demonic possession' has caused some pupils to suffer from seizures while others have fainted at the school.
Almost 100 schoolchildren are thought to have been 'possessed' by the devil - and see visions of a man in black trying to kill them.
In what has been described as a mass case of demonic possession, the pupils in Peru are experiencing seizures alongside their horrifying halluncinations.
Experts have struggled to explain the strange goings-on, which also include widespread convulsions and fainting at the school , reportedly built on a Mafia graveyard.
According to local reports, as many as 80 students at the Elsa Perea Flores School in northern Peru's Tarapoto have been experiencing the supposedly contagious 'condition' since last month.
Children aged between 11 and 14 are reportedly fainting and having strong muscular convulsions.
Shocking video footage shows pupils who are barely conscious, repeatedly screaming, and who appear to be delirious.
Doctor Antony Choy told national channel Panamericana TV: "We don't understand how this has kept on going on.
"We know it started on 29th April and now it is still happening. Now there are almost 80 pupils [still affected]."
Elsa de Pizango, a concerned mother whose daughter has experienced some of the symptoms, said: "She fainted in school. They didn't say anything at the hospital. She just fainted. She keeps on spitting froth from her mouth."
Video & more http://www.mirror.co.uk/news/weird-news/nearly-100-schoolchildren-possessed-devil-7995259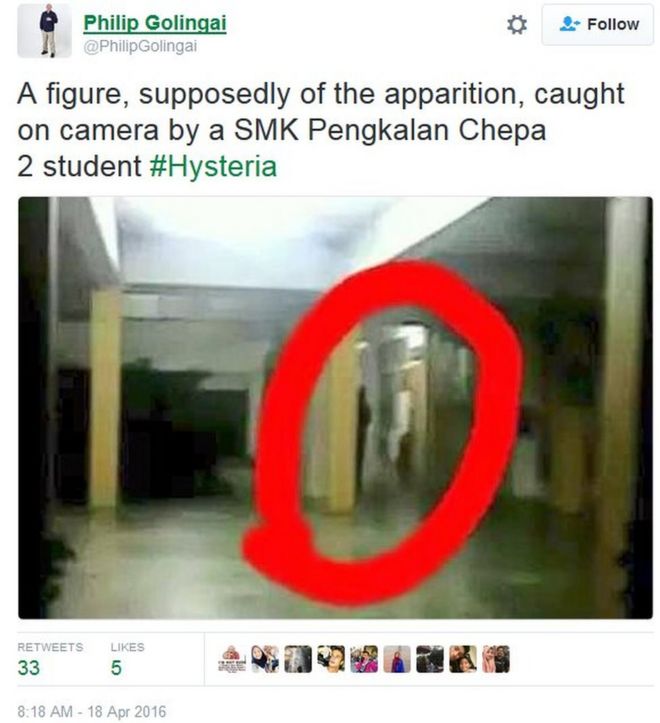 A school in northern Malaysia has had to shut temporarily to handle what local media have called a case of "mass hysteria".
It started last week with several students and teachers of the school in the city of Kota Bharu claiming that they had seen spirits or had supernatural experiences.
School authorities shut the school and called in Islamic traditional experts, scholars and even witch doctors in prayer sessions and "exorcisms".
By Sunday, the school had reopened and school officials said things had gone back to normal - but questions remain and the case continues to generate intense interest in Malaysia.
The school shut on Thursday and invited Islamic preachers to recite the Koran and conduct prayers in the school. Local education authorities are also sending counsellors to the school this week.
The Kelantan state education department did not respond to queries from the BBC.
What is mass hysteria?
Based on the media reports, Robert Bartholomew, a sociologist who has researched mass hysteria in Malaysia, called it a textbook outbreak in an email to the BBC.
Mass hysteria or collective delusions are defined as the spontaneous and rapid spread of false or exaggerated beliefs within a population.
Outbreaks usually occur in small, tight-knit groups in enclosed surrounding such as schools, orphanages and factories.
How common is it?
Several famous cases of mass hysteria or collective delusion have been documented throughout history all over the world - including "dancing mania" centuries ago, in which people reportedly would start dancing uncontrollably for hours.
In 2012, LeRoy, New York made headlines with high school students developing strange tics and verbal outbursts with no obvious cause. Eventually the New York state department of health found that those involved - mostly girls - were suffering from conversion disorder, a form of mass hysteria.
http://www.bbc.com/news/world-asia-36069636


Similar topics
---
Permissions in this forum:
You
cannot
reply to topics in this forum