DISCLOSURE! In Case You Missed It
by nielskunze on June 11, 2016


What still needs to be disclosed? Scant little, I'm afraid.

Just in case you haven't noticed, everything has already been disclosed. It's all out there already… in the public domain. You've heard of the internet, right?

This article is just attempting to follow up on something said in a recent public discussion between my friends Randy Maugans (OffPlanet Radio) and Shane Bales (The Ruiner). An important point was made, and I simply wish to draw some additional attention to it… in my own irascible fashion.

In a nutshell, the point under discussion, as I've already hinted, is that 'disclosure' has already happened. Virtually all of the juiciest, dirtiest, mind-bending-est, paradigm-shattering-est, most discombobulating 'secret' information you could ever imagine has already been revealed. The beans have been spilled. People love to talk… and gossip… and even make formal presentations with high production values. Obviously, disclosure is an ongoing process… and it always has been. Sometimes it's a trickle, sometimes a torrent. I would suggest that these are torrential times.

So those who are still screaming for disclosure, what are they actually demanding? It appears that they are asking for a slightly different form of disclosure. They want disclosure to be spoken through the mouthpieces of authority. They want all of the sordid 'secret' nastiness to be delivered to the masses through the 'trusted' authorities. Authorities trusted by whom? By the braindead masses who are utterly incapable of thinking for themselves because they will not entertain any possibilities lying outside of their rigidly narrow views, that's who. And that would change everything, right?

Fuck no!

Maybe half of them would be capable of realizing that they've been lied to… and could subsequently adopt the newly disclosed program from their trusted authoritarian programmers. The other half would likely stand firm in their denial. You see, the problem was never one of non-disclosure; it's always been more about closed-mindedness.

Is there some supreme yet hidden virtue in refusing to consider alternative possibilities? Is having a rigidly-defined narrow view of the world actually a desirable thing? If so, please explain to me how this is so. Isn't extreme closed-mindedness more accurately a sign of mental deficiency or perhaps even illness? I always thought that the expansion of human consciousness– the ability to hold many possibilities in mind, even contradictory ones– was a desirable and healthy trait? Isn't that what imagination is for?

Closed-mindedness IS a mental illness. There, I said it!

Whatever form disclosure 'needs' to take, it won't cure the illness. For those on whom such authoritarian disclosure would have an effect, it would just be a matter of overwriting old programs with updated ones. But the non-thinkers would still remain non-thinkers… they would remain as automatons living out someone else's programs. And the outright deniers will still be as delusional as ever!

Disclosure isn't the problem… or the 'lack' of disclosure isn't the root cause of our collective difficulties. It's simply the inability to entertain other possibilities that thwarts real and significant change in the world. Isn't that so fucking obvious that it hurts?!

How many times have we heard that the only constant in this universe is change itself? And yet, humans– on the whole– have been deeply conditioned to loathe change. We've been sold on false programs of security and stability, on schooling over education, on facts over possibilities, on rote memory over imagination or intuition. We've been relentlessly pressured to give up any identity as adventurers, or even as living, growing beings… so that we can become… what? Placeholders? Statistics? Good little citizens of the World-Devouring Machine? So we can be productive, contributing members of a society hellbent on destroying all life on this planet?

It's not about disclosure (other people telling other people what's what); it's about what we each DO with what's been disclosed.

So if you're just waiting for some newfangled disclosure event, you're part of the problem. I sincerely hope that we get just the kind of disclosure event that I too once dreamed of– when I was still young and stupid, like, just a couple of years ago– so that we can finally get past the idle waiting (and endless re-disclosure loop among the supposedly open-minded crowd) and see that "Huh, how 'bout that… disclosure didn't solve a fucking thing!" And finally move on…


http://blog.nielskunze.com/?p=4972
Last edited by Ria on Wed Jun 15, 2016 7:39 am; edited 1 time in total

Ria




Posts

: 1019


Points

: 2702


Join date

: 2016-02-27





https://www.youtube.com/watch?v=OPQR7V2PUAw

Published on 9 Jun 2016

Shane's Podcast site: http://thewholeworldlaughing.blogspot.fr/
The Ruiner: http://theruiner777.blogspot.com/
Unraveling: http://www.unravelingmusic.com/

Musician, blogger, and true-heart empath, Shane Bales, joins us to "unravel" the deceits of alt-media: David Wilcock/Corey Goode (Secret Space Program),/GAIAM TV...and the "Blue Avians" as a psy-op; various "Savior Programs such as NESARA, The Iraqi Dinar, "economic reset"; The Neil Keenan treasure hunt, Dr. Steven Greer and the Disclosure agenda; why we need to begin realizing our own destinies: "comparative realities", the real art of manifestation...and much about music and art and their magikal powers to heal, inspire, and expand our consciousness.

We feature the video, "Tangled Hope" by Unraveling (courtesy of the artists).The band: UnRaveling is an Electronic Hard Rock band based out of Toronto, Ontario, Canada. Their debut album, Softly, was released in July of 2011. The new EP, "Fading Like Everyone",is now available: http://unraveling.bandcamp.com/
cracking interview, good tune too i certainly know how it feels to be tangled up in hope what a phrase! lol

Monk




Posts

: 318


Points

: 800


Join date

: 2016-02-27


Location

: Within reach of pitchfork





SHANE THE RUINER INTERVIEW II - ETS : GODS ANGELS OR DEMONS?

Published on Jun 14, 2016

This is a discussion with Shane the Ruiner about the topic: ETS: GODS, ANGELS OR DEMONS?
Note: this is NOT a traditional interview.

Deal with it.

KERRY CASSIDY
PROJECT CAMELOT
http://projectcamelotportal.com

Ria




Posts

: 1019


Points

: 2702


Join date

: 2016-02-27



3 Steps to Unveiling Will and Have begun to take place.
The first phase of unveiling is the disclosure of the underground bases, the cloning and genetic hybrid experiments and the celebrity cloning situation involving programming, pay to play sex, and trauma-based mind control.
The second phase of the unveiling is the disclosure of the very advanced technology that is used for consciousness transfer, electromagnetic mapping of the entire brain structure (connectome), and the organization of events using brainchips and supercomputers that transcend the particle limits of this plane/dimension.
The third phase is the unveiling of what these experiments and this advanced technology enabled people to experience. Other worlds wrapped up within this world in other 'dimensions' of space and time. Essentially, imaginative worlds that are similar to the worlds within our imagination that act as links to the divine. These worlds disappear or at the lease overlay over the physical when a person wakes up and does their daily thing. The technological version of these "imaginative" realms is that they are propped up through technology and so they are just as real as the world of the internet we are communicating through here and how, yet instead of HTML or CSS and javascript it is sensory information and cognitive feedback loops so it is a fully immersive experience. 
In these worlds some people chose to stay and seek technological ascension. Others chose to simply experience a fairly sensual life on top of and away from the physical experiences we have here. Others sought immortality and an extension of the temporal/physical experience that the body acts as an anchor for. 
All of this is related to whether the Universe is naturally a kind of bio-simulator system and how the rules of each interact with or correlate to each other. And on top of that, how the soul, consciousness, or awareness interacts with those rules in the different realms that exist. 
The Universal Laws, the Laws of Spirit, these are the unified laws of existence which exist in all worlds and realms. These are simple mathematical and logical formulae which represent the organizational structure of balance/harmony, matter, energy, form and awareness in the "Omniverse" of all existence. All realms follow these laws and as such one who knows these laws is capable of knowing their self in all realms.
Some individuals stayed in the simulator and over time their consciousness evolved into something new (or old, depending on how you want to look at it). Now try to understand something possibly too complicated.
What if there were very powerful supercomputer systems that could process the basic pattern of the DNA of all who's consciousness was within it? Then as the consciousness changes and evolves, so does the DNA that is recorded in holographic format on the supercomputer system which goes beyond anything we currently know and is closer to some kind of higher-dimensional reservoir for information that also transcends space/time.
Then when these individuals come out of the simulator, their DNA, being correspondingly altered, has shifted to represent the format of their consciousness and the cycles of awareness and Universal Law that they have adhered to.
These are the phases of the unveiling and the WHOLE THING is really about the SACRED UNIVERSAL LAWS of SPIRIT. This is all leading up to that big discovery that we are eternal beings and everything we experience is a cosmic drama that is played out in a variety of ways in order to fully know the self and thus come to know the Universe.
The secondary aspect of this great Universal Truth unveiled is that there is a kind of containment system that has developed like an abscess that has resulted and grown over the lack of awareness and psychological trauma that has resulted in the deviations of awareness that were formed when portions of our species discovered the truth while others remained asleep.
Either we split, we all go to sleep, or we all wake up. 
In truth, there can only be one outcome, and that is that we all wake up.
Why?
Because time is a mystical experience. In the very far future, the eternally 'evolved' spirit of the Human population reaches a point where it can choose to diverge into a series of simulated experiences or unify with a grand design of experience. 
At some point we reached that point and decided to create simulators, or someone else did, or somehow it happened.
It's a lot like the "light" and the "dark". The dark can't eat the light, that's nonsensical. 
The pure awareness that manifests human experience can't "not exist" that doesn't make sense, that concept, "doesn't exist". 
The line of reasoning here is that there can be no event from within the simulator that destroys the world from which the simulator was born. Now as far as time goes, it's like this. 
At some point we reached complete nullification and harmonization of all divergent streams and uncertainties. Meaning all was Universally aligned again. From this place the simulator began. 
So in order to start the simulator we have to first survive it and gain awareness outside of it. Meaning we can't be destroyed, we can shut it off and organize all the little fliers and parts within that are currently experience a fractalization and divergence pattern that simply washing information and experience around until it's unrecognizable. 
Now it's interesting because that was the whole point. To make what can only be eternally familiar (and yet new), the eternal divine, unrecognizable and know the self from a new angle. 
We have done this to the point where there will be no longer a self to recognize because people are running simulations within simulations within simulations of experience. 
So, all the simulations are neatly and cleanly folded and put back into their respective area of space/time and the awareness that exists becomes once again recognizable to the Eternal Divine. (that is us, you, everyone that is aware of the eternal divine, it's reflexive/recursive, it makes itself)
That should help explain why this is more important that "fame", "money", or whatever it is that people like these days. None of those things actually even exist in the first place, REMEMBER.
HAVE FUN
__________________________________________________
I was involved in the rescue and recovery of two scientists from the ice, they had lost their minds over 2 weeks time. I explain my situation on a blog I wrote and I have videos. 
We will see changes by the end of this fall.
There is a possibility of a return of power to the people, but only when people accept the possibilities and use them to help each other spread self-awareness.
REPTILIAN ALIENS HELPED NAZI GERMANY BUILD SECRET SPACE PROGRAM IN ANTARCTICA
WRITTEN BY DR MICHAEL SALLA ON APRIL 14, 2016. POSTED IN EXOPOLITICS RESEARCH, INTEVIEWS, SECRET SPACE PROGRAMS
http://exopolitics.org/reptilian-aliens-helped-nazi-germany-build-secret-space-program-in-antarctica/


Shane Sedore I'll be there with you 

;)



Like · Reply · 3 · 19 hrs



Aug Tellez I know, you've seen things that I have and you were utilized in a more intellectual manner. To be honest, at one point you trained me. You've remained balanced through all of this. That says something about Humanity.

Like · Reply · 5 · 19 hrs


Ria




Posts

: 1019


Points

: 2702


Join date

: 2016-02-27



In the run up to World War II, German secret societies and the Nazi SS were guided to three large caverns in Antarctica by Reptilian extraterrestrials, according to former U.S. Navy intelligence operative William Tompkins. In his latest ExoNews TV interview, released today, Tompkins describes how the Reptilians helped the Germans/Nazis build underground bases in remote Antarctic caverns, which were located next to even larger caverns controlled by the Reptilians.
According to Tompkins, the U.S. Navy learned of the existence of these secret Antarctic bases from their spies embedded in Nazi Germany, who found that the Nazis/Germans used these remote bases to launch space missions to the Moon, other planets in our solar system, and, most remarkably, to distant interstellar locations.
Tompkins says that the Germans began moving equipment and supplies to Antarctica as early as 1913, which coincides historically with the Second German Antarctic Expedition from 1911-1913. This period also coincides with the increasing role of German secret societies in exploring remote global locations for occult knowledge.
The movement of equipment accelerated in the lead up to World War II. In his interview, Tompkins cites 1934 as the beginning of this acceleration, even though historical records point to 1938 as the launch of the Third German Antarctic Expedition:
The move from Germany to Antarctica was in operation from 1934 way before the war started. In fact some of the stuff went down in 1913.
In last week's ExoNews TV episode, Tompkins revealed that secret agreements had been reached between Hitler's regime and Draconian Reptilians. In this week's episode he discussed one of the major elements of this agreement:
Large portions of equipment were sent down there. But right next to them were three tremendous size caverns which the Reptilians had. Not Grays, but Reptilians. Germany got two more, about a tenth the size of the big Reptilians [cavern]. They were able to … [go] down, usually by submarine. They built these flat submarines, these regular class, so they could ship all this stuff down.
Tompkins remarkable information is consistent with Grand Admiral Karl Dönitz who referred on three occasions to an impregnable fortress being built for Hitler in a remote location using Germany's advanced submarine fleet. In 1943, Donitz is reported to have stated: 
… the German submarine fleet is proud of having built for the Führer, in another part of the world, a Shangri-La on land, an impregnable fortress. 
The second occasion was in 1944, when he revealed how plans were in place to relocate Hitler so he could launch a new effort for his thousand-year Reich:
The German Navy will have to accomplish a great task in the future. The German Navy knows all hiding places in the oceans and therefore it will be very easy to bring the Führer to a safe place should the necessity arise and in which he will have the opportunity to work out his final plans.
Finally, Dönitz's remarks at his Nuremberg war crime trial clearly suggest that it was Antarctica where Germany's most advanced technologies had been secretly relocated by his submarine fleet. At the trial he boasted of "an invulnerable fortress, a paradise-like oasis in the middle of eternal ice." 
Donitz's remarks were made plausible in 1966 by cartographer and artist Heinrich C. Berann for the National Geographic Society. In Berann's depiction of an ice-free Antarctica, he shows underwater passageways that run throughout the Antarctic continent. This provided a plausible way in which submarines could travel under the ice for considerable distances to Nazi Germany's "invulnerable fortress".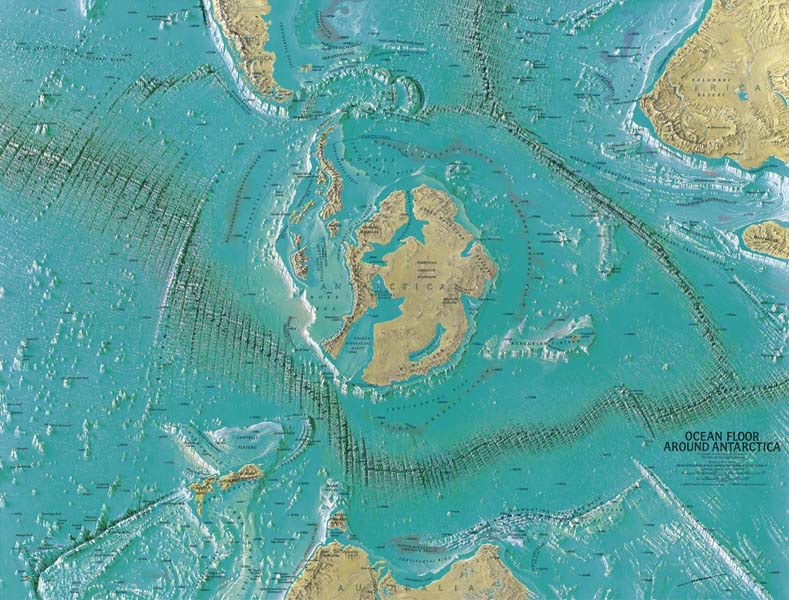 Antarctica
Donitz's claims are further supported by documents provided by an alleged German submarine crewman after the war, which described the instructions for U-Boat Captains to reach the Antarctica bases through the hidden passage ways. Below is an image of the document with the translated instructions.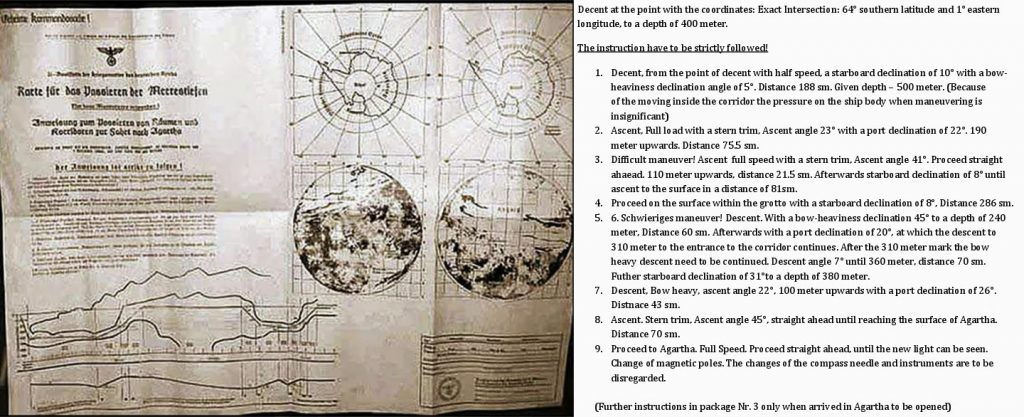 Directions to Antarctic bases – Source
In today's interview, Tompkins describes simultaneous flying saucer programs that had been developed by the Nazis. One was in Germany, while the second was in Antarctica. In his response to a question about where Germany's antigravity craft were being built, he said:
They built the prototypes in Germany. They built pre-protype, something which is ready for production, in Antarctica. They put this stuff in production in the countries all over Germany [Occupied Europe], and they continued to build similar vehicles in Antarctica.
Tompkins then shares one of the most astonishing secrets gained by the Navy spies embedded in Germany. With the help of the Reptilians, the Nazi's Antarctica program had successfully launched manned missions to the Moon, planets, and even other star systems.
Now the question was asked whether did we ever get to the Moon? You see it was in some way, it was well known that the Germans had a number of vehicles that flew out and came back. One of the first ones, they got into trouble, they crashed and the whole group died. But that was almost all coming from Antarctica. Way before, four years before, the war ended, they were always moving all of this stuff out. And so the flights, almost everything came from Antarctica with the same people. … I don't know if it was true or not, but it was stated by some of those fellows [Navy spies] that they had gone to other stars and come back.
Tompkins remarkable claims corroborate the testimony of secret space program whistleblower, Corey Goode, who claims that from 1987 to 2007, he had access to smart glass pads, which described the successful Nazi space program that operated out of Antarctica.
Goode said the Antarctica program was controlled by German secret societies rather than the Nazi SS:
As explained, the Nazi remnants that were made up mostly of Secret Societies that created a "Break Away Civilization," kept the most advanced technology secret from even their highest Military and Political leaders, setup enclaves in South America and Antarctica. The locations in Antarctica were some ancient civilization ruins that had remained occupied by certain groups in thermal area's that cause area's similar to lava tubes and domes under the glaciers. 
Goode goes on to corroborate Tompkins claim that the Nazi bases were built adjacent to caverns controlled by another advanced civilization, the Reptilians:
There was an underground and under glacier city complex that was already occupied and setup in a couple of locations and the NAZI's renovated an area that was mostly crushed above the surface but had plenty of room under the domed ice, thermal underground energy and caverns (accessible via U-boat under the ice flows and openings that made it ideal for a hidden multipurpose base) that were perfect for them to secretly build out during the entire Second World War 
What makes Tompkins claims difficult to dismiss are documents he has published in his book, 
Selected by Extraterrestrials
, supporting his main claim that he participated in a covert Navy Intelligence program that disseminated Germany's advanced aerospace secrets to selected U.S. aerospace companies, think tanks and universities.
Furthermore, documents, and statements by Admiral Donitz, support Tompkins claims that Nazi Germany had succeeded in locating and building underground facilities under the Antarctic continent. The long route under the Antarctic ice sheets, which the German submarine fleet allegedly took to reach these hidden caverns, gives credence to Tompkins claims that Reptilian extraterrestrials had provided the Nazis with the information necessary to locate the hidden Antarctic caverns, and the under-ice passage ways to reach them.
In the next episode of ExoNews TV, we will hear from William Tompkins how the Nazis used slave labor in their hidden Antarctic bases, and that the Italian government had also developed a flying saucer program headed by the famous inventor, Gugliemo Marconi that was secretly operating out of hidden South American locations.
© Michael E. Salla, Ph.D.
Permission to Circulate in Full 
As most here know C Goode copies others material and puts it out as his own. So the material can be valid but not the claimant.

Ria




Posts

: 1019


Points

: 2702


Join date

: 2016-02-27



Svali Speaks!
The Life of Svali – an Ex-Illuminati Mind Control Programmer
https://svalispeaks.wordpress.com/category/interview-with-svali-the-illuminati-in-america/

Ria




Posts

: 1019


Points

: 2702


Join date

: 2016-02-27




---
Permissions in this forum:
You
cannot
reply to topics in this forum