Page 1 of 2 • 1, 2

At last

There are some salient points but the over view of what led up to & what was the reasons for invasion are utter bullshit
The WMD was nothing more than a cover story to hoodwink the uninformed, yet it's all we are hearing today, also the plans for restructuring Iraq were not faulty at all, that whole meme is also utter bullshit, they had planned to create chaos & leave the place in ongoing internal warfare as a policy, there is plenty of proof of this.
Maybe it's just too much of a leap for brainwashed establishment types

No matter what happens to Tony Bliar these things need to come out, because we did the same thing in Libya & are doing the same thing in Syria
Tony Bliar deserves an Oscar for his performance on live TV right now !
He thinks he can re-write reality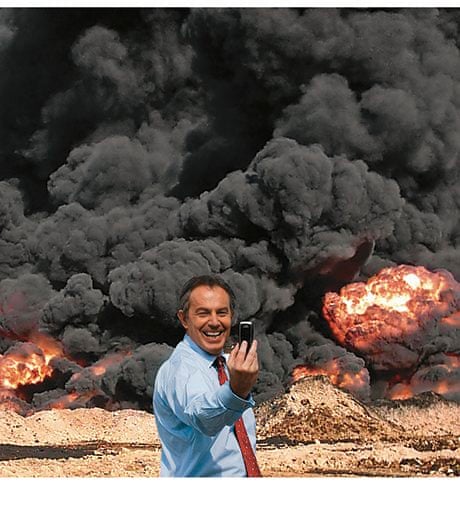 Woah that Bliar monologue went on & on & on

At first it just seemed like an act, then like spin, but by the end it became clear that he is insane, absolutely bloody insane.
Messianic madman that has been telling lies for so long he has grown to believe them & is incapable of telling fact from fiction, esp fiction of his own making.
He was going to war at any price & WMDs were the best excuse he could cook up at the time, "Iraq is now a better place" he said, what planet is he on
Planet Rasberry, he hopes.

Not Planet Jail.

norman




Posts

: 454


Points

: 1190


Join date

: 2016-02-27




norman




Posts

: 454


Points

: 1190


Join date

: 2016-02-27




Proper insane !
How did people not notice this ?
Here's a September 11th video I put together a few years ago.

Guilty faces and confident bragging:



So !............

Why is Blair so powerful he can have it arranged to have the Chilcot inquiry come out while an unwasted crisis is going on ?

norman




Posts

: 454


Points

: 1190


Join date

: 2016-02-27



On September 9, 2002, as the George W. Bush administration was launching its campaign to invade Iraq, a classified report landed on the desk of the chairman of the Joint Chiefs of Staff. It came from Defense Secretary Donald Rumsfeld, and it carried an ominous note.
"Please take a look at this material as to what we don't know about WMD," Rumsfeld wrote to Air Force General Richard Myers. "It is big."
The report, revealed here publicly for the first time, was an inventory of what U.S. intelligence knew — or more importantly didn't know — about Iraqi weapons of mass destruction. Its assessment was blunt: "We've struggled to estimate the unknowns…. We range from 0% to about 75% knowledge on various aspects of their program."
Myers already knew about the report. The Joint Staff's director for intelligence had prepared it, but Rumsfeld's urgent tone said a great deal about how seriously the head of the Defense Department viewed the report's potential to undermine the Bush administration's case for war. But he never shared the eight-page report with key members of the administration such as then-Secretary of State Colin Powell or top officials at the CIA, according to multiple sources at the State Department, White House and CIA who agreed to speak on condition of anonymity. Instead, the report disappeared, and with it a potentially powerful counter-narrative to the administration's argument that Saddam Hussein's nuclear, chemical and biological weapons posed a grave threat to the U.S. and its allies, which was beginning to gain traction in major news outlets, led by the New York Times.
While the threat posed by a nuclear-armed Iraq was at the heart of the administration's case for war, the JCS report conceded: "Our knowledge of the Iraqi (nuclear) weapons program is based largely — perhaps 90 percent — on analysis of imprecise intelligence."
But just because the JCS report wasn't seen by key officials who might have benefited from its more cautious tone, doesn't mean it wasn't available for inspection. Its middling "Secret" classification meant that, in theory, nothing would have prevented sharing the report's contents had any member of Congress requested a briefing from the Joint Chiefs of Staff.

For Clinton, then the junior senator from New York and a member of the Senate Foreign Relations Committee, the new evidence of early doubts raises a different question: How might her vote have changed if she and other lawmakers had known of the report's existence? Would she have taken it into account? The depth of her inquiry into the evidence has been called into question before. According to Her Way, a biography by New York Times reporters Jeff Gerth and Don Van Natta, Jr., Clinton never read the classified NIE. Clinton has never disputed that account, but she was not alone.

The Washington Post reported on April 27, 2004, after the invasion had begun going sour, that in the fall of 2002, before the vote on whether to invade Iraq, no more than six senators and few House members had logged into the Sensitive Compartmented Information Facility where they had to go to read the Top Secret estimate.
Long article, the rest is here
http://www.politico.eu/article/what-donald-rumsfeld-knew-we-didnt-know-about-iraq/
Page 1 of 2 • 1, 2

---
Permissions in this forum:
You
can
reply to topics in this forum